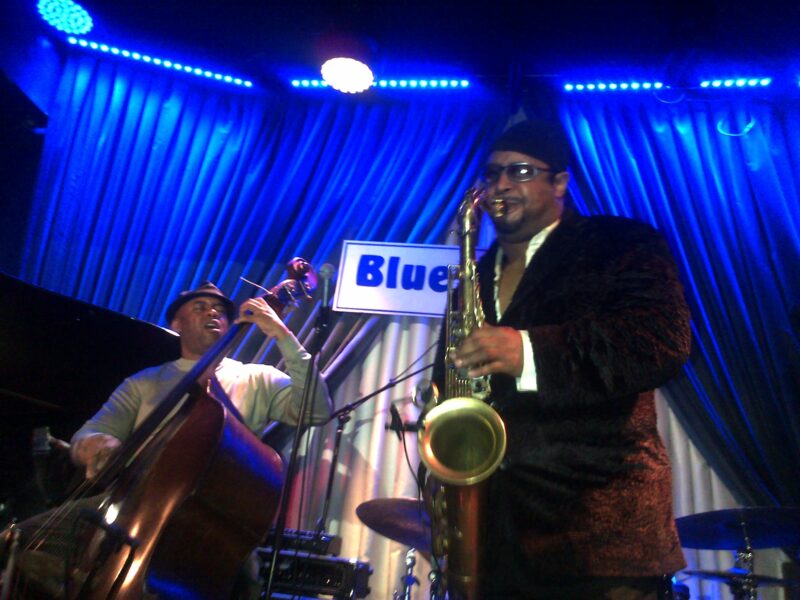 Eric Wyatt is a saxophonist who plays tenor, alto, and soprano sax.  Born in Brooklyn, New York, Eric was taught music by his dad, Charles Jolly Wyatt, who played in the army band in Germany.  His dad moved to Harlem in the early 50's just in time to play with many of the world's greatest players. Eric can recall story's of his dad taking him to concerts where he would sometimes drive the band members in the family station wagon.  Eric at 11 years old drove with his father in 1972 to Storrs, CT with bassist Larry Ridley and pianist Albert Dailey.
The band leader was Eric's godfather Sonny Rollins.  Jim Hall was on the gig as well.  This inspired Eric at a young age to hear his first live concert.  Some of his dad's friends were, Charlie Parker, Thelonious Monk, Dexter Gordon, Gary Bartz, Big Nick Nicholas, Gilley Coggins, Wilber Ware, and Dizzy Gillespie.  Eric went with his dad to see Miles Davis at the Bottom Line club and went backstage after the gig.
Eric began on alto and studied at Kingsborough Community College.  He also went to Lehman college where he studied with pianist Stanley Cowell.  He had some opportunities early in his career to write and license an original song to channel 5 in NY for a tv news show called Black News with host Bill McCreary in 1985.
He went on to switch to tenor after his dad passed in July 1989. He met and studied with a Brooklyn legend named Arthur Rhames who inspired him.  The lessons he learned from Arthur helped to put Eric on the right track.  Eric started playing in Europe as a leader in Sept 1996 performing in Paris, France at the La Villa Jazz Club.  Dany Michel brought him there 2 times and Eric made connections in Europe and took his quintet to the Half Note Jazz Club in 1998 and 1999.  He has played as a leader in Moscow, Russia, as well as in Slovakia, Prague, Shanghai, Hong Kong, Athens in Greece, Australia, Malaysia, Thailand, and Singapore. He has 5 recordings as a leader and has played as a sideman on cds with Kenny Garrett, Jeff Tain Watts, Bob Crenshaw, Al Foster, Rufus Reid, Warren Wolf, Wallace Roney, and Steve Jordan. His Cds currently out today are Borough Of Kings, Positone, Look to the Sky, and The Golden Rule 4 Sonny, both on Whaling City Sound Records.  
He also recorded a cd called The Blue Print which features Robert Glasper, Keyon Harrold, Anthony Wonsey, Darryl Hall, E-J Strickland, and Master James Spaulding.
Eric also licensed his original composition "Welcome Home" to NBA TV show One On One with Ahmad Rashad in 2004 and has performed at many major festivals and Clubs such as Nice Jazz  Festival, Rochester Jazz Festival, Montreal Jazz Festival, The Blue Note, Dizzy's Coca Cola Club, Birdland, The Iridium, Cafe Stritch San Jose, and The Jazz Gallery.  He also played with Grammy winner Roy Hargrove's Big band as well as with Roy's Quintet played at Yoshi's.  Eric has performed with Branford Marsalis'Quartet at Yoshi's and recorded on the Frank Foster Songbook cd with Wynton Marsalis.  Eric can also be heard performing with Dewey Redman on an album released in 1995 under Verve Records called Last Chance for Common Sense.
The album titled Golden Rule 4 Sonny features Russell Malone, Clifton Anderson, Sullivan Fortner, Giveton Gelin, Willie Jones III, Tyler Mitchell, Eric Wheeler, Chris Beck, Charles Gould, and Benito Gonzalez. He will record this fall November 2020 at the legendary studio of Rudy Van Gelder for his 3rd release scheduled for a 2021 with Whaling City Sound label.